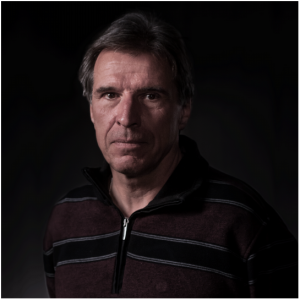 Cinematographer
Born in Prague in 1955
– In 1988, he was at a teaching internship in Finland, at the University of Industrial Arts Helsinki.
– Co-researcher of several projects at the Research Institute of Sound and Picture for the National Gallery in Prague in the area of architecture of light in exhibit space.
– Since 1995, he has been a Docent, his habilitation thesis was called "Light and Space in Visual Arts".
– In 2012, he was appointed Professor.
– He is the head of the cabinet of image technology at FAMU, Deputy Head of the Department of Cinematography, Chairman of the Technical/Technological Board and Vice President of the Association of Czech Cinematographers (A.Č.K.)
– He externally cooperates with the Czech Technical University, Faculty of Electrical Engineering, member of the board of the doctoral studies programme "Electrical Engineering and Informatics", member of the Scientific Council of the CTU
– Since 2013, he has been a researcher of the NAKI research project, project focused on methodologies of digitisation of the National Film Fund.